Bridgewater Place puts 'wings' in place to block wind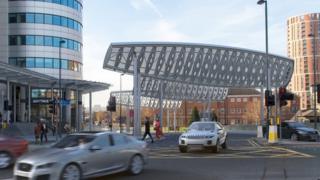 Work on specially-designed structures to block high winds around Yorkshire's tallest building has started.
Streets near Bridgewater Place in Leeds have been plagued by high winds since the skyscraper was built in 2007.
The three "baffles" are to be placed over Water Lane, with part of the road closed until at least 22 October.
Dr Edward Slaney was killed nearby when a lorry blew over in 2011, with a coroner blaming his death on high winds in the area.
Dr Slaney, a 35-year-old environmental engineer from Sowerby Bridge, West Yorkshire, was walking on a bridge over the River Aire in Neville Street on 10 March, when the lorry toppled over and landed on him.
In response to the coroner's conclusion, when there are high winds roads near the 32-storey building are closed as a safety measure.
Graeme Atkinson, project manager at the site, said: "These impressive, wing-like structures are perforated in order to deflect and reduce the speed of wind as it passes through and over them."
The delivery of the first baffle that is to sit about 20ft (6m) above the road is expected to take place at night on Sunday, said building owner CPPI.
The project, which includes installation of other screens and canopies, is expected to be completed by April 2018.
Access to Bridgewater Place is unaffected by the works and diversion signs are to be set up to help drivers use alternative routes during road closures.
If poor weather slows the work road closure can be extended until Sunday 29th October, added CPPI.