Leeds Art Gallery reopens with 'new' glass roof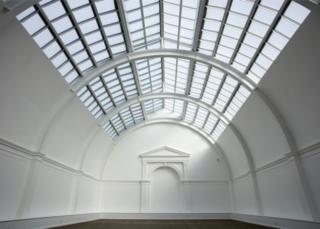 Leeds Art Gallery is to reopen following a £4.5m refit which uncovered a vaulted glazed roof hidden for decades.
The gallery, which opens on Friday, was shut in January 2016 for repairs to the roof and fabric of the Victorian building.
The glazed roof found in a first-floor gallery had been hidden above a false ceiling but will now be seen again.
The revamped gallery is to include works by German artist Joseph Beuys.
More new stories from Yorkshire
Significant works by Beuys feature in the three ground-floor galleries.
The opening programme also has new acquisitions by leading contemporary artists, said Leeds City Council.
The glass roof was covered by a suspended ceiling for more than 40 years.
Sarah Brown, of Leeds Art Gallery, said: "The refurbishment of the original Victorian glass roof has enabled us to create light-filled first floor galleries."
The gallery, founded in 1888, was to reopen in spring but securing the glazed roof delayed the work.
A hidden room containing marble columns and ornate tiles was uncovered in 2006 during previous renovations at the gallery. It had being concealed for 50 years.