New trusts found for collapsed Wakefield City Academies' schools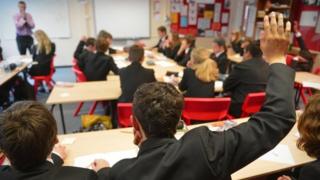 The government has announced its eight preferred trusts to take over 21 schools across Yorkshire after an academy chain that ran them collapsed.
Wakefield City Academies Trust (WCAT) revealed at the start of this term it was giving up its schools because it was unable to rapidly improve them.
The Department for Education (DfE) said it wanted to "minimise uncertainty".
A union said it had "concerns" over the identified sponsors and called for an independent inquiry.
DfE said it had "provisionally" listed Aston Community Education Trust, Astrea Academy Trust, Brigantia Learning Trust, Delta Academies Trust, Exceed Learning Partnership, Inspiring Futures, Outwood Grange AT and Tauheedul Education Trust as the favoured sponsors to take over WCAT's 14 primary and seven secondary schools.
Kevin Courtney, joint general secretary of the National Education Union, said: "We question whether the eight named 'preferred' academy trust sponsors have the capacity and track record to take on these schools.
"The NEU is also concerned about apparent conflicts of interest."
The union has called for "written assurances" over job security for all WCAT staff and action plans for each of the affected schools.
He said an inquiry was needed to "examine the DfE's management of academies" and its handling of WCAT.
The DfE said: "Our priority has been to identify new trusts and to minimise uncertainty for schools and pupils.
"There is now an opportunity for interested parties to submit views to the department before final decisions are taken."
WCAT runs schools across West, South and East Yorkshire, providing education to about 8,500 children.
It previously said it was working with everyone concerned to ensure the transition to new sponsors was "as seamless as possible".
---
Affected academies
West Yorkshire: Barkerend Academy, Bell Lane Academy, Havercroft Academy, Heathview Academy, Hemsworth Arts and Community Academy, High Crags Academy, Thornbury Academy, Wakefield Community Academy, Kinsley Academy, Morley Place Academy, The Freeston Academy, West End Academy.
South Yorkshire: Balby Carr Academy, Brookfield Academy, Carr Lodge Academy, Mexborough Academy, Montagu Academy, Waverley Academy, Willow Academy, Yewlands Academy.
East Yorkshire: Goole High School Academy.