Anti-Semitic graffiti daubed on Etz Chaim synagogue sign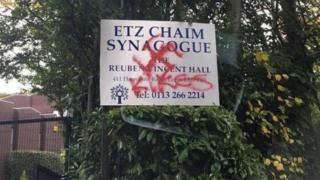 A synagogue in Leeds has been daubed with anti-Semitic graffiti.
A Swastika and the word "kikes" were painted or sprayed on to the sign outside the Etz Chaim synagogue on Harrogate Road overnight.
Police said they were treating it as a hate crime and that patrols in the area had been stepped up.
Jewish MP Fabian Hamilton, whose constituency covers the synagogue, said it was an "attack on an entire community".
"Make no mistake, there is no place for this hate in Leeds North East - a constituency that prides itself on multiculturalism where people of all faiths, and none, work and live together peacefully," he said.
The Community Security Trust (CST), a charity working against anti-Semitism and racism, said it had caused "widespread upset and concern" and that they were working with police.
Posts on social media suggest other similar anti-Semitic messages were daubed on the pavement outside the synagogue.
In a statement, the trust said: "As you might expect, such vile graffiti in a prominent location in the heart of the Jewish community has caused widespread upset and concern."