Lighthouse landmark in Leeds' European culture bid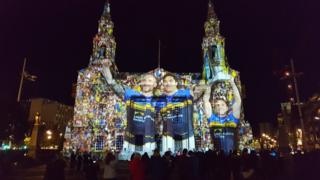 A full-sized lighthouse will be built in Leeds if it wins its bid to become European Capital of Culture in 2023.
Details of the year-long programme have been unveiled by the council ahead of submitting a formal bid on 27 October.
It is expected some £12m of council cash would go towards the £62m cost of setting up and delivering the range of activities.
Building a lighthouse on the south bank and extending the Night Light event feature in the campaign bid.
Every year, two cities are designated Capital of Culture by the European Union and organise a series of cultural events.
Being chosen can bring increased investment, create jobs and boost the local economy.
Leeds' rivals for the honour include Belfast, Dundee and Milton Keynes.
Judges will announce the shortlist in December with the winner being announced later next year.
Other proposed events to mark the year
Light Night Leeds would become a week-long festival
33 shipping containers filled with things to inspire neighbourhoods to play and create together
A large-scale performance project on buses involving thousands of people aged over 60
The planting of thousands of trees
Building a Leeds children's cinema
Leeds' bid highlights the social and economic divisions in the city and states the challenge is to create a new sense of community which "does not involve stepping away from openness and internationalism".
The council has said the events would provide different environments to explore the role of culture in tackling these inequalities.
Delivering the bid, council leader Judith Blake said: "Culture can weave us together, celebrating our differences and tackling difficult issues that we face together as a city.
"This is the transformation at the heart of our bid to become European Capital of Culture 2023."