Shipley driver found to be eight times the legal alcohol limit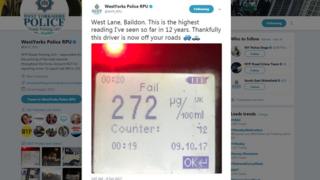 A driver stopped by police was found to be almost eight times the legal drink-drive limit.
The man was stopped as he was "driving erratically" in the early hours on West Lane, Baildon, near Bradford, said West Yorkshire police.
A reading of 272 micrograms of alcohol in 100 millilitres of breath could be seen in a tweet from the force's Roads Policing Unit.
A man, 34, from Shipley, was arrested on suspicion of drink-driving.
More news stories from Yorkshire
The drink-drive limit for motorists in England, Wales, and Northern Ireland is 35 micrograms in 100 millilitres of breath. The level is lower in Scotland.
"This is the highest reading I've seen so far in 12 years. Thankfully this driver is now off your roads," said the officer who sent the tweet.
'Zero tolerance'
A spokesperson for Brake, the road safety charity, said: "This driver was clearly a risk to other road users and themselves and we would hope they receive a stern and appropriate sentence.
"Any amount of alcohol in a driver's system can slow reaction times.
"We would urge the government to introduce a zero tolerance drink-drive limit of 20 milligrams per 100 millilitres of blood."
The legal limit for alcohol in blood is currently 80mg per 100ml.