Wakefield fatal fire 'was started to cover up burglary'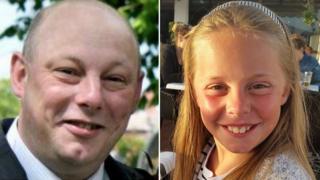 A man set a fire which killed a father and his eight-year-old daughter in order to destroy evidence of a burglary, a court has heard.
Andrew Broadhead, 42, and his daughter Kiera died in the fire at their home in Ash Crescent, Stanley, Wakefield in October 2016.
Daniel Jones, 29, of Spawd Bone Lane, Knottingley, denies their murder.
A jury heard Mr Jones believed CCTV at the house could prove he had stolen a safe from their neighbours.
Read more about this and other stories from across Yorkshire
Prosecutor Jonathan Sharp told jurors at Leeds Crown Court that Mr Jones "did not set fire to the Broadhead's house because he had some sort of grudge against them".
"He did it because he wanted to destroy evidence of another crime that he had committed a few days earlier," he added.
The court heard it was "certain" that anyone in the property at 55 Ash Crescent would have been at risk of serious injury or death.
Mr Broadhead, his wife Sara and their daughters, Mia and Kiera, were asleep when the fire was lit.
Mrs Broadhead and Mia managed to escape but her husband and younger daughter were overcome by smoke and were pronounced dead at the scene.
The court heard Mr Jones was thought to have stolen a safe from a friend's house in Ash Crescent in the early hours of 16 October.
Suspecting him, the friend asked Mr Jones to his home and told him that he might have been captured in the act by CCTV in the area, including at the Broadhead's home.
The friend also said the Broadhead family were on holiday though they had actually already returned, the jury heard.
Mr Sharp said CCTV showed a light at number 55 was on when Mr Jones walked past to go to his friend's house and after leaving he could be seen looking at the property where the light had been switched off.
The prosecutor said that clearly indicated Mr Jones was aware the house was occupied.
The trial continues.