Leeds University scientists in disinfectant hospital door pad design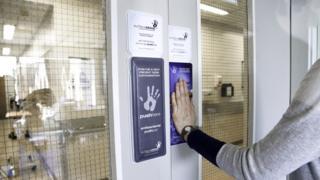 Scientists at the University of Leeds have helped to develop a door entry pad that disinfects itself.
The product is designed to replace traditional aluminium plates on hospital doors.
It incorporates a textile material that dispenses a small quantity of alcohol gel onto the pad as the door is pushed open.
The new device is now being produced by a company, following seven years of research.
Inventors said the pad was designed to be replaced after seven days and independent tests showed it can reduce bacteria that commonly caused hospital-acquired infections by more than 90%.
A report in 2014 by the National Institute for Health and Care Excellence said about 300,000 patients developed an infection in England each year while being treated by the NHS.
'Serious interest'
A study into the effectiveness of the technology was published in the Journal of Hospital Infection.
Mark Wilcox, professor of medical microbiology at the university who led the independent evaluation, said the pads could help to reduce the "contamination of doors by microbes".
"They offer a new way to reduce the risk of the spread of bacteria and viruses in hospital environments and other settings where frequent contact with doors could undermine hand hygiene," he said.
"In addition to the successful NHS trials, many organisations outside healthcare have expressed serious interest in introducing these self-disinfecting products."
Design of the pad was a collaboration between Nonwovens Innovation and Research Institute Ltd, a spin-off company from the University's School of Design, and industrial designers Adam Walker and Simon Scott-Harden.