Yassar Yaqub shooting: Delay publishing IPCC forensic results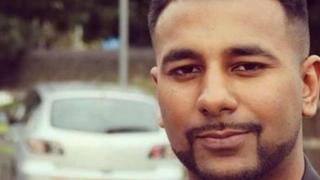 A police watchdog investigating the death of a man shot by police said it cannot publish its findings until criminal proceedings are complete.
Yassar Yaqub, 28, from Huddersfield, was a passenger in a car when he was shot near junction 24 of the M62 on 2 January.
A gun was found in the footwell of the Audi car by West Yorkshire Police.
The driver, Moshin Amin, from Dewsbury, is due to stand trial accused of firearms offences.
He denies charges of possession of a firearm with intent to cause of fear of violence, possession of a sound moderator and possession of ammunition.
The Independent Police Complaints Commission (IPCC) said it was unable to release details of forensic examinations at this time.
Steve Noonan, from the IPCC, said: "We have recently received the results of independent detailed forensic tests, which have taken some months to complete, on the Audi vehicle in which Mr Yaqub was a passenger on the evening he was shot by police."
He added: "Publication of the results, or the sharing of this information, isn't possible at this time. This is because this information is likely, as are other findings from our investigation so far, to be used in evidence during the forthcoming criminal proceedings."
The watchdog confirmed a non-police issue firearm, found in the Audi in which Mr Yaqub was travelling, had undergone ballistics and forensic testing.
Data from mobile phones had also been analysed, and accounts from officers and witnesses had been collated and reviewed.
It previously said none of the police officers involved had been wearing cameras, and that no relevant CCTV footage of the incident has been found.