Secrecy claims around Wakefield City Academies Trust demise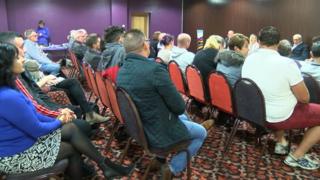 Parents and politicians claim they have been kept in the dark over the collapse of an academy trust which ran 21 schools across Yorkshire.
Just days into the new term, Wakefield City Academies Trust (WCAT) announced it was giving up its schools because it was unable to rapidly improve them.
Hemsworth MP Jon Trickett said secrecy surrounded what had gone wrong.
Parent Donna Johnston said the trust could not "just sweep it away". WCAT has not commented.
Concerns were raised at a public meeting on Friday night, which was attended by dozens of parents, Mr Trickett and union representatives.
Mr Trickett said: "I demand to know what has happened, why this trust apparently failed so badly and what the government is going to do about it."
Josie Farrar, whose two children go to Freeston Academy in Wakefield, said: "My son is in his final year doing his GCSEs so I'm really anxious about that.
"There seems to have been no accountability for the trust."
Sally Kincaid, from the National Education Union, said they were still waiting for answers from WCAT.
The trust runs schools across West, South and East Yorkshire, providing an education to about 8,500 children.
The Department for Education has said it is trying to find alternative sponsors for the 14 primary and seven secondary schools, after which the trust will be wound up.
WCAT previously said it was working with everyone concerned to "ensure the transition to new sponsors is as seamless as possible".
---
Affected academies
West Yorkshire: Barkerend Academy, Bell Lane Academy, Havercroft Academy, Heathview Academy, Hemsworth Arts and Community Academy, High Crags Academy, Thornbury Academy, Wakefield Community Academy, Kinsley Academy, Morley Place Academy, The Freeston Academy, West End Academy.
South Yorkshire: Balby Carr Academy, Brookfield Academy, Carr Lodge Academy, Mexborough Academy, Montagu Academy, Waverley Academy, Willow Academy, Yewlands Academy.
East Yorkshire: Goole High School Academy.