Tim Peake's spacecraft goes on display in Bradford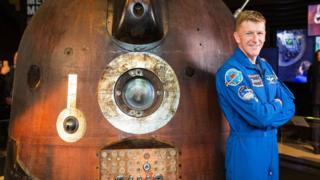 The spacecraft that carried astronaut Tim Peake to and from the International Space Station has gone on display for the first time outside London.
The Soyuz TMA-19M has been installed at the National Science and Media Museum in Bradford.
Major Peake held a question and answer session with schoolchildren from the city at the museum while opening the exhibit.
It can be visited until 19 November.
More on this story and others in West Yorkshire
The display also includes the capsule's 25m (82ft) parachute and a VR experience recreating the astronaut's return journey.
The capsule's exterior is still charred from re-entry into the Earth's atmosphere.
On 15 December 2015, Major Peake embarked on the Principia mission to the International Space Station and spent six months orbiting Earth.
While based there, he held science lessons beamed back to UK schools, made the first spacewalk by a UK astronaut and ran a marathon on a treadmill.
Major Peake returned in the Soyuz capsule on 18 June 2016, landing in Kazakhstan.
The astronaut said he hoped the spacecraft would serve as "inspiration for our next generation of scientists and engineers".
His mission took him on about 3,000 orbits of Earth, covering a distance of about 125 million km.