Football club treasurer who stole £15,000 told to pay £10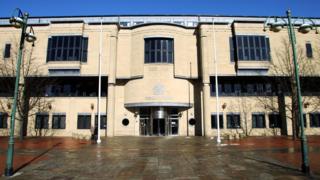 A woman who stole about £15,000 from a junior football club, leaving the team on the brink of collapse, has been asked to pay back £10 in return.
Jemma Blackburn left Bradford-based Westwood Juniors with less than £500. She was given a suspended jail term in April after admitting fraud.
Bradford Crown Court heard the 35-year-old, of Ascot Parade, Bradford, had a number of significant debts.
A nominal repayment order was set by the judge due to her lack of assets.
At her earlier sentence hearing, the court heard how her family's finances were in disarray at the time she stole the money from the club while acting as treasurer.
Blackburn was ordered to do 200 hours of unpaid work.
Her lawyer Nigel Jamieson said she had lost everything since the offending and had been vilified in the community.
The club's child welfare officer Chris Wilkinson said the crime had taken the club to "rock bottom", with it only surviving due to "a lot of fundraising".
At a Proceeds of Crime hearing, Judge Jonathan Durham Hall QC said Blackburn had 28 days to pay the £10 or face a day in jail.
The court heard if a repayment order was put in place, no matter how small, any future assets could still be subject to confiscation.
Judge Hall said: "Better they have something now, however small it is, and maybe the prospect of something in the future.
"It's really not going to make them very happy is it, but there we are."