Murderer Donald Pemberton found with 'knife' in prison cell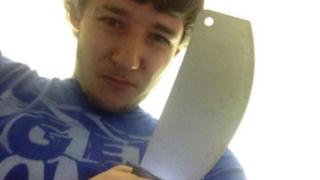 A man serving a life term for murder told a prison officer he "thought about killing everyday", a court has heard.
Donald Pemberton, 22, who was convicted in 2015, was found covered in blood with a knife at HMP Wakefield in April.
Leeds Crown Court heard he had removed the blade from his razor to make an eight inch weapon and had cut himself on his face and arms.
Pemberton, who admitted possession of a knife, was jailed for two years to run concurrently with his 23-year sentence.
When the prison officer who found him asked what he had done, he said: "I think about killing every day."
The court was told Pemberton, who was unrepresented, arrived at HMP Wakefield in November 2016 and was on medication for schizophrenia.
Ciara Riordan, prosecuting, said on the night in question on 4 April 2017, he was depressed and thought his cigarette had been spiked with the drug Spice.
The prison officer was unharmed.
Pemberton was serving a 23-year sentence at the time for the murder of Tanis Bhandari in Tamerton Foliot.
He was convicted alongside Ryan Williams in December 2015.
Plymouth Crown Court was told he and Williams had armed themselves with a knife and an axe before the attack on Mr Bhandari.