'Unknown' Battle of Arnhem soldier identified after 73 years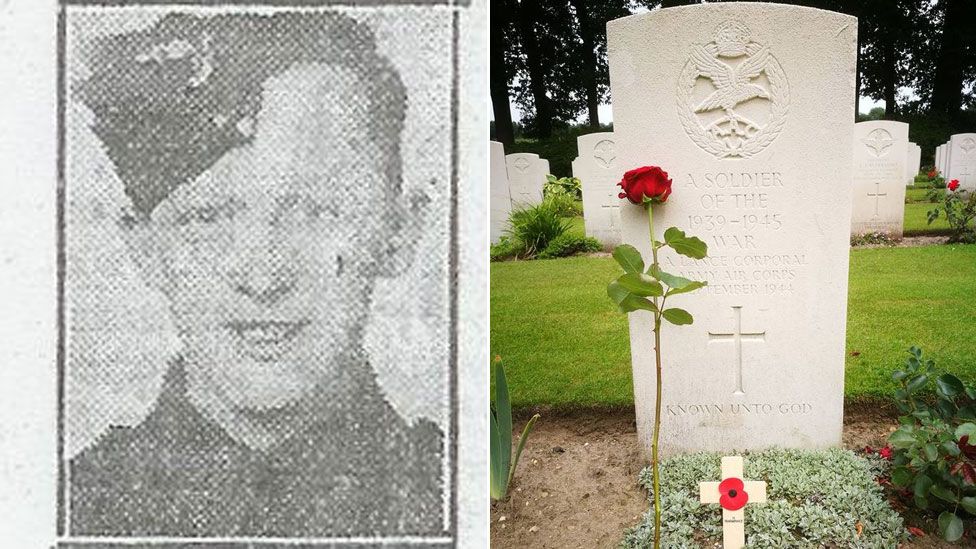 A British paratrooper killed in the World War Two battle for Arnhem and buried in an unmarked grave is to be given a headstone bearing his name.
L/Cpl William 'Ginger' Loney from Dewsbury, West Yorkshire has been in an unmarked grave for almost 73 years.
But he has finally been identified by Dutch historians and will get his own gravestone in a ceremony in September.
It is hoped a new appeal for living relatives could allow any to attend after an initial search was in vain.
L/Cpl Loney enlisted in the Royal Artillery but volunteered for the airborne forces.
He served in North Africa, Sicily and Italy before he jumped into Arnhem, Netherlands, on 17 September 1944.
The 26-year-old was killed the same day by machine gun fire as he entered the town.
Marcel Anker, a Dutch historian who has written a book on the battle, found L/Cpl Loney died in heavy fighting on the doorstep of the house at 65 Utrechtseweg.
He identified the paratrooper as the grave's occupant in 2008, using records describing the remains of soldiers killed in action.
A report was sent to UK authorities but it was not until 2015 that they confirmed the discovery.
Battle of Arnhem (operation Market Garden) 1944
Allied forces landed behind German lines but were defeated after nine days of fierce fighting
The aim was to inflict a decisive blow on the Germans and hasten the end of the war
More than 1,400 Allied troops died and more than 6,000 were captured
The battle was the inspiration for the 1977 film A Bridge Too Far
The re-dedication is to be held at the main cemetery in Arnhem on 13 September.
His grave is currently engraved "A Lance Corporal from the Parachute Regiment Army Air Corps... A Soldier of the 1939-1945 War".
British historian, Peter Bennett, is leading the search for living relatives, which has so far been fruitless.
He believes a final appeal may lead to someone coming forward.
"My hope is that descendants of the Oates family on William's mother's side might come forward as there are quite a number of people with this surname in the local phone directory," he said.
The Ministry of Defence said it had found no surviving relatives, up to second cousin, but had invited a more distant relative (by marriage) to the service.
L/Cpl Loney's name is engraved on the memorial wall of the cemetery in nearby Groesbeek and at his home town of Dewsbury.