Almondbury police box 'Tardis' appears again after restoration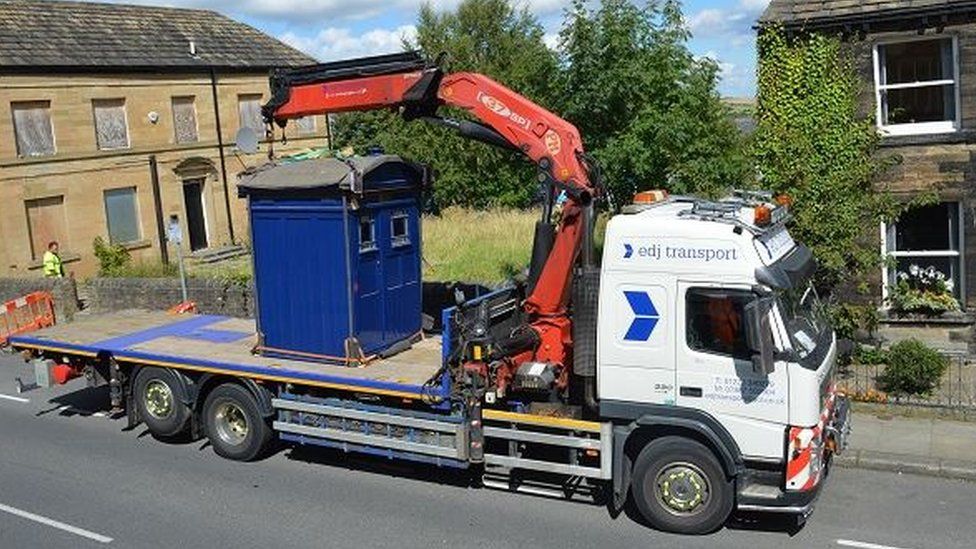 A Grade II-listed police box, similar to one on which Doctor Who's Tardis is based, has been returned after it was removed for restoration.
The timber box in Almondbury near Huddersfield, West Yorkshire is thought to date from the 1920-30s.
The boxes were used by officers on the beat to report to headquarters and for people to make emergency calls.
It is no longer used by the force but a West Yorkshire Police spokesman said: "It's back where it's meant to be".
District Commander Steve Cotter said he was delighted the box in Northgate was displayed in its "former glory" and "now it's back where it's meant to be".
The box dates from about the same time as the versions designed by Gilbert MacKenzie Trench, on which the Tardis is based, also began to appear in London.
It has had a chequered recent history having been listed in 1987 and has been closed several times since but was in use as late as 2014 for officers to take a break in.
The renovation, paid for by the police, meant the box was removed from the street for four months.
The Almondbury box had deteriorated over time and the wood had rotted in places and had been vandalised, said the force.
The refurbished box now has a concrete base to help it weather the elements, it said.
Although it is not identical to the box used in Doctor Who, the Almondbury "Tardis" does share a connection with the long-running sci-fi show.
Jodie Whittaker, who has been named as the 13th Time Lord, was born in Huddersfield.
The Doctor and her time machine
Tardis stands for Time and Relative Dimension in Space
Throughout most of the Doctor's travels it has retained the outer appearance of a British police box
The BBC and the Metropolitan Police had a legal wrangle in 2002 over the trademark of the distinctive image
In the 1960s the box was a common sight when used on TV by William Hartnell, the first Doctor
And finally... of course it is bigger on the inside than it is on the outside.
Police boxes were first unveiled nationally in the 1920s but forms of police kiosk had been used since the 1890s
Most disappeared as more people had telephones in their homes.