New exhibition captures Salts Mill 30 years on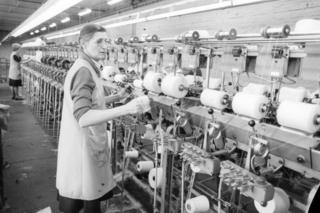 A photographer who captured a textile mill as it closed down has returned to the site 30 years later to document its transformation.
Photographer Ian Beesley took photos of the Grade II*-listed Salts Mill in Saltaire, near Bradford, as it was shutting its doors in 1986.
The mill was bought a year later and is now an arts and cultural centre.
Mr Beesley returned to record its current state for a new exhibition marking 30 years since it reopened.
The exhibition in the roof space of Salts Mill features up to 70 black and white photographs, both old and new, of the activities in and around the building.
Among the archive photographs showcasing the history of the property are workers using the mill's last loom and a woman working at a thread-spinning machine.
A window cleaner who worked at the site for 27 years and a group of long-serving security guards were among those who were photographed by Mr Beesley during a photo shoot in July.
The photographs are accompanied by new poems from Barnsley poet Ian McMillan.
Zoe Silver, of Salts Mill, said: "[This] is a big year for us. It's 30 years since my late father, Jonathan Silver, got the keys to the mill and began to breathe art, love and life into this incredible building.
"Ian has photographed people working at the cutting edge of technology at international businesses like Arris and Radio Design who have premises in the mill, as well as capturing some of the people who make Salts tick - like Paul our window cleaner and Dave, our resident builder."
Window cleaner Paul Heaton said: "I told [Mr Silver] that he'd bought a white elephant.
"A couple of years later, when the place was booming, he reminded me about it and I said 'well that's why you're a millionaire and I'm just a window cleaner'."
---
Salts Mill
Built near Bradford by Victorian philanthropist Sir Titus Salt in the 1850s
He also established the village of Saltaire, providing housing and other amenities including a park, school, library and leisure facilities for the 3,000-strong workers at his woollen mill
Some of the streets in the village are named after his children and family
In 2001, Saltaire became a UNESCO World Heritage Site and was described by the organisation as "an outstanding and well preserved example of a mid-19th century industrial town"
The Grade II*-listed mill is surrounded by countryside and is the starting point of a walking trail through the Yorkshire Dales