Two men jailed for historical child sex abuse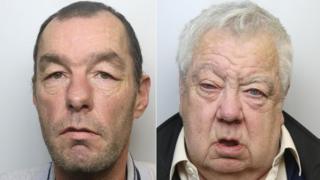 Two men have been jailed after pleading guilty to photographing sexual assaults on children more than a decade ago.
Michael Peters, 71, and Andrew Bristow, 48, were arrested after police officers pieced together 300 shredded pictures showing the abuse.
The offences happened between 2004 and 2006 in Surrey and West Yorkshire.
At Bradford Crown Court, Bristow from Halifax, was jailed for eight and a half years and Peters of Normanton, West Yorkshire, received six years.
More on this and other West Yorkshire
Bristow admitted two counts of rape against a female under the age of 13, with Peters pleading guilty to taking indecent images of the same victim and being in possession of a large number of indecent images of the most serious nature.
The pair also pleaded guilty to two counts of sexual touching of a child.
After recovering the images in a raid on Peter's property, detectives used digital technology to rebuild the pictures and identify the suspects and some of the victims.
Det Insp Allan Raw said: "There may still be victims in both the West Yorkshire and Surrey areas, who Peters and Bristow sexually abused, but who we have not identified. I would encourage those victims to speak to the police".