Asad Khan death: Boy said he 'felt unsafe in school'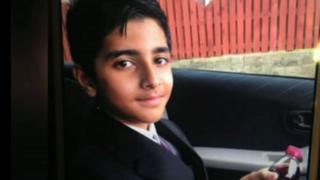 An 11-year-old boy told another pupil he felt "unsafe" in his new school on the day he was found hanged, an inquest hearing has been told.
Asad Khan, from Bradford, died three weeks after starting at Beckfoot Upper Heaton School in the city.
His mother, Farheen Khan, found her son after forcing her way into his locked bedroom on September 28. He died in hospital a short time later. 
His family maintain he had been bullied.
Bradford Coroner's Court heard Asad had told a boy - who cannot be identified - a number of things, including that he felt "unsafe" in school and was "going to skive for a very long time."
Coroner Martin Fleming heard on another occasion, Asad told the boy: "Life is unfair. I would say it's 90 to 95 per cent life is hard".
Mr Fleming said he would now consider whether to call the boy in person to give evidence.
The inquest will resume next month.