Devil's Cave: Injured boy, 14, rescued after fall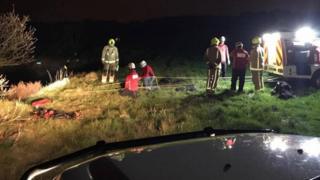 A 14-year-old boy had to be rescued by a search and rescue team after falling into a cave in West Yorkshire.
The teenager suffered a serious leg injury in the fall at Devil's Cave in Chellow Dene, near Bradford, on Friday night.
During the two-hour rescue, Calder Valley Search and Rescue Team lowered a team member down into the cave by rope and the boy was placed on a stretcher.
He was later carried to an ambulance waiting nearby.
The incident was attended by 18 search and rescue team members, West Yorkshire Police, West Yorkshire Fire and Rescue Service and Yorkshire Ambulance Service.