Arriva apologise to Wakefield wheelchair user told she could not get on bus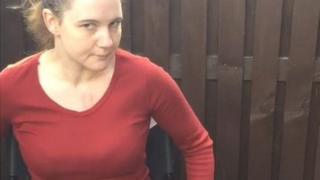 A wheelchair user who was refused space on a bus because a pram was already on board has received an apology.
Kirsty Shepherd, of Wakefield, West Yorkshire, was told by a driver she could not board because of the pram.
Jon Croxford, of bus company Arriva, said he had apologised to Ms Shepherd for the "unacceptable" situation.
However, she said she was "disappointed with the apology and didn't think the action has gone far enough."
She said she felt the "situation had been swept under the carpet" and would like to have seen "sterner action taken against the driver".
Live updates and more on stories from Yorkshire
The company is to distribute new signs to "clarify the position regarding wheelchair access" to its bus fleet, said Mr Croxford.
He said there had been "a genuine misinterpretation" of company policy and that the company's policy was complicated by the many different configurations of buses in the fleet.
The company is also to issue a driver briefing as part of its disability awareness training.
Ms Shepherd was refused space five days after the Supreme Court said bus drivers must be more accommodating to wheelchair users.
Wheelchair user Doug Paulley took action against First Bus after he was refused entry to a bus when a mother with a pushchair would not move.