Leeds UTC students help make 3D prosthetic hands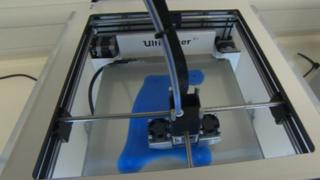 Teenagers are using 3D printers to make prosthetic limbs for children with no hands.
Students at Leeds University Technical College are part of a global project called Team UnLimbited.
Volunteer organisation E-nable matches companies or individuals who have 3D printers to people, often children.
The parts made by the Leeds students are sent to people in need - including those in Africa where children have lost limbs in landmine blasts.
More on this story and others from Yorkshire
Stephen Davies and Drew Murray, from Swansea, started Team UnLimbited to produce the free prosthetic limbs.
Student Simba Masheonsza said most hands were made for children but some were for adults.
"They're for anyone who needs them, it could be people in Yorkshire or across the world, we just alter the dimensions," he said.
Brad Mellor, head of engineering, said: "It's a mechanical hand but it'll still change lives like never before.
"If you've got the technology and know what you're doing, you can make [the 3D-printed prosthetics] by bucket-load and change lives significantly."
The hands give enough movement to pick up most objects. Some users have learned to ride a bike or play the piano.
One recipient, 12-year-old Musa from Nigeria, had his arm burnt when his home was set alight during Boko Haram attacks.
His family fled to a camp in Abuja where he was offered help to get a 3D-printed hand.
Each hand costs about £35 in materials and takes 24 hours to make.