Plans for Go Ape in Leeds Roundhay Park scrapped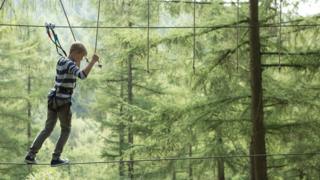 Plans for a high rope adventure course in a Leeds park have been scrapped following a public consultation.
Leeds City Council said it agreed with Go Ape that Roundhay Park was not a suitable location for the attraction.
More than 3,000 people signed a petition against plans for the rope course, and the majority of respondents to the consultation also objected.
The council said it would now work with Go Ape to find an alternative location for a rope course.
More on this story from BBC Leeds and West Yorkshire
Following wider analytical work and after looking at the results of the consultation, the council said it had found "issues which would be difficult to mitigate" at Roundhay Park.
These included noise and parking, as well as the effect on wildlife.
The council had planned to lease Ram Wood in the south-west of the park to Go Ape.
Councillor Lucinda Yeadon said park users and local residents had concerns about the plans, but others supported the idea of the attraction coming to Leeds.
She said: "We have decided to explore alternative locations that may be more suited to host this type of attraction.
"I would really love to see a high rope adventure course open in our city but only if we can find the right location for it."
Ben Davies from Go Ape, which has 29 sites in the UK and 12 in the US, said the company had had "numerous requests" for the attraction in Leeds.
He said it would create 35 jobs, invest £300,000 in the local community, and deliver a "sustainable and environmentally-friendly revenue stream to be reinvested back into our partner parks".