Paralysed ex-soldier's cut in care 'ruined' dignity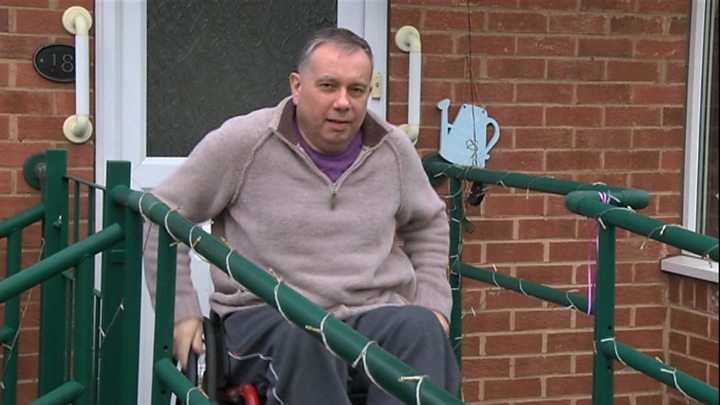 A paralysed former soldier said his dignity "has been ruined" by a council reducing the care he receives.
Adam Douglas was hit by a rocket-propelled grenade in Iraq in 2003 and is paralysed from the waist down.
He now receives help from just one carer rather than two and the reduction sometimes means he has "to forego a wash and a shave" in the morning.
Leeds City Council said in a statement it would "be undertaking a reassessment" of the case.
Mr Douglas said it was making it hard to go to his job with the NHS.
"It's making life so difficult just for me to remain able to go out the door and work for a living.
"It's a rush. Simply being washed and shaved and dressed for work.
"My dignity has been ruined on a daily basis," he said.
'Contribute to society'
The council said: "When a service user's circumstances change we review and reassess their need for support."
Mr Douglas has two spinal fractures that cause spinal paralysis and he also suffers problems with his heart, spleen, kidneys, bladder and bowel.
The care helped him and his wife "to remain working and contribute back to society", he said.
He is helped to get out of bed in the morning get showered, dressed and go to toilet, with similar help to put him back to bed in the evening.
The two helpers had been in place for three years, but he now gets help from just one carer and for a shorter time.
Richard Lane, of disability charity Scope, said: "We have seen some pretty devastating cuts to social care over the last five years.
"We are now in a position where we would say the social care system in Britain is broken."
Central government needed to find "a long-term solution that funds this system properly", he said.
The Department of Health has been asked for a comment.