Child and mum rescued from freezing water after crash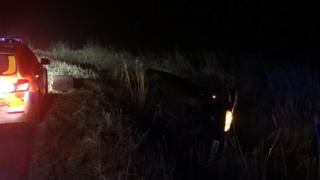 A three-year-old child and her mother have been rescued from freezing water after their car crashed and was left overturned in a ditch.
West Yorkshire Police said the girl and woman had to be freed from the vehicle by officers as it filled with water.
The crash happened on a minor road near South Milford on the border of West and North Yorkshire at about 06:00 GMT.
The woman and child were unhurt but had been "cold and scared", a police spokesperson said.
Officers said conditions on untreated roads in the area had been poor due to ice and freezing fog.