Leeds city centre anti-terrorism measures installed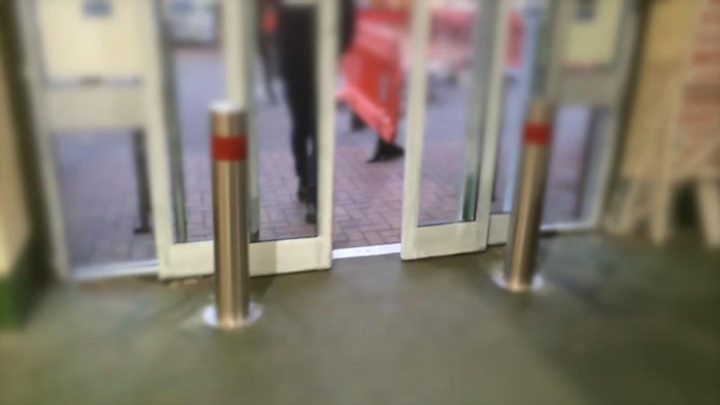 Safety measures aimed at preventing any terrorist attack involving a lorry have been installed in Leeds city centre.
Contractors have been fitting devices, marketed as Truckstopper, at the entrances to shopping centres.
Leeds City Council has also moved giant ornamental plant plots to the ends of the main shopping streets.
Despite the preventative measures, the council said there was "currently nothing to suggest any specific threat to Leeds".
Live updates on this and other stories from Yorkshire
The bollards are designed to stop large vehicles "breaking through the security line", according to the maker's website.
They have been placed around the entrances to the Victoria Gate Centre, the County Arcade and the Victoria Quarter by the company that owns and runs the sites.
The council has also placed 22 planters around Leeds city centre designed to slow down vehicles as a temporary measure before the local authority installs more permanent security bollards.
"In the light of recent international events and following guidance issued nationally, precautionary measures have been in place for some time to restrict vehicles from entering certain pedestrianised areas of the city centre," a council spokesperson said.
Professor Paul Rodgers, from the Peace Studies department at the University of Bradford, said so-called Islamic State was attempting to encourage attacks like ones recently seen in Europe "to show they are still there but also to incite community disharmony in the countries concerned".
He stressed any threat was "not specific to Leeds".
Giant letters
Michael Burgin, who works in a shop close to the newly-installed bollards, said: "They do look good, in a city centre like this you now need safety protection like that."
In London, barriers to prevent attacks on the government buildings in Whitehall have been designed inside a wall.
Meanwhile, Arsenal's Emirates' Stadium is protected by giant letters spelling out the club name that also acts as a large shield.
The UK government has a dedicated team that advises on how to reduce the risk of vehicle-borne attacks to crowded locations.
A dozen people were killed and 56 more were injured when a stolen lorry was driven into crowds at the Berlin Christmas market on 19 December.
Earlier in 2016, more than 80 people were killed and hundreds were injured when a terrorist deliberately drove a truck at people on the promenade in Nice.