Batley rapist with dementia 'cannot be jailed'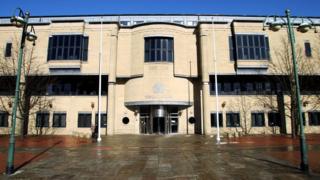 A pensioner found guilty of rape has been given an absolute discharge due to having dementia.
A jury decided Jeremiah Cummins, 75, committed historical offences against two victims in a trial of the facts.
Judge Jonathan Rose said Cummins, of Arncliffe Road, Batley, tried to make one girl have sex with a dog and another was made to drink urine.
But at Bradford Crown Court, the judge said he could not send him to prison as he had an untreatable mental disorder.
His trial was stopped in September due to concerns about his mental state, with a psychiatrist indicating he was "unfit to plead" to the allegations.
Cummins was then found by the jury to have "committed the acts alleged against him" following a special hearing during which both of the complainants gave evidence.
'Great physical pain'
The offences took place in the 1960s, 1970s and 1980s, the court heard.
Judge Rose said: "You caused great physical pain to those little girls but that is nothing compared to the psychological damage inflicted on both and which has lasted throughout their lives.
"In other circumstances you would have received punishment in the form of a very lengthy prison sentence from which it is unlikely you would have emerged but events have of course moved on significantly since these offences we committed."
He added: "I cannot by law send you to prison".
The court heard that the pensioner still disputed the jury's finding that he committed the acts, but Judge Rose said the pensioner would now have to register as a sex offender with the police for the next five years.