Search for Bradford gang's stolen £100k of jewellery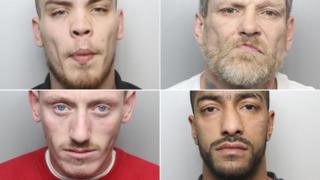 A plea to find more than £100,000 of stolen jewellery has been made by police after a gang of diamond thieves were jailed for a two-day spree of violent robberies.
The four men were jailed for eight robberies that saw diamond jewellery and luxury cars stolen.
The robberies took place in Bradford, Leeds and Kirklees in January, West Yorkshire Police said.
The men, all from Bradford, were jailed at the city's crown court on Friday.
For more on this story and others from West Yorkshire
The four men jailed were:
Timothy Tordoff , 26, of no fixed abode who was sentenced to 20 years.
Dean Coleman, 47, of Tyersal Road, Bradford, sentenced to 13 years 8 months.
Wayne Coleman, 25, of Mary Street, Bradford, sentenced to 15 years.
Yasser Mohammed Nasser, 26, of Broadstone Way, Bradford, sentenced to 16 years and six months.
The stolen items included a 3.7 carat diamond ring and an 18 carat white gold and diamond bracelet, police said.
Det Supt Gary Hooks, said: "Some of these pieces are of great sentimental value and we would urge anyone who may have been approached by someone selling these items, or who may have seen them being sold, to contact us."