Agnes Ogden: Answer to widow's murder 'in local area'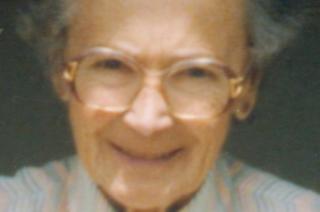 The answer to who killed an 88-year-old widow in her home 25 years ago "remains in the local area", police believe.
Agnes Ogden was found in a downstairs bedroom at her house in Erringden Road, Mytholmroyd, West Yorkshire, on 19 December 1991. She had also suffered a blow to the face.
Mrs Ogden was last seen by a neighbour at 16:30 GMT a day earlier.
Police said it was unclear if anything had been stolen, with no motive ever established for the attack.
Her family said the back door of the house was opened after a glass panel was smashed, with the keys in the lock on the inside.
A small brightly-coloured torch with a twist grip, possibly belonging to the murderer, was found at the scene.
Corinne Goldie, Mrs Ogden's niece, said: "It was just like it was yesterday.
"She was lovely - very fragile, but we all thought she would reach her 100th birthday, we always said so. I still miss her."
West Yorkshire Police said Mrs Ogden, a former cotton mill worker, had lived alone in her home since her husband, Frank, died in 1971.
She had a curvature of the spine but led a fairly active life, the force added.
Det Supt Jim Dunkerley said: "I strongly believe the answer to who murdered her remains in the local area.
"I would urge anyone who may have information about the case and who may not have come forward at the time to do so now and help us find justice for this lady and her surviving family."