Leeds Bradford Airport railway station one of three planned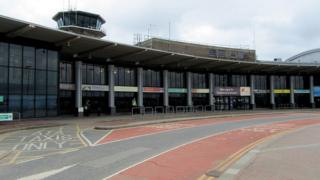 Three new railway stations, including one near Leeds Bradford Airport, have been proposed as part of a £270m transport plan in Leeds.
Stations at the White Rose shopping centre and at Thorpe Park make up the trio of planned stops.
They are to be part-funded by money for the city's rejected trolleybus scheme.
Leeds got about £174m from the Department of Transport for the trolleybus and the funds need to be used by 2020-21.
For more on this and other West Yorkshire stories
The proposed new station about one mile (1.6km) from the airport would also act as a park and ride for commuters to Leeds and Harrogate.
Money from the West Yorkshire Combined Authority and the private sector would also contribute to the £270m cost, said the council.
A mass transit scheme for Leeds is still being considered but would need "significant additional investment and not be deliverable by 2021".
The council also drew up three options in 2015 for increasing road access to the airport by new link road.
Expansion plans have been unveiled for the airport to help it double the number of passengers.
The new rail proposals are to be considered by senior councillors on 14 December and if approved would go to the Department for Transport.