Kirkstall Road crash: Cyclists in tribute ride to John Harkins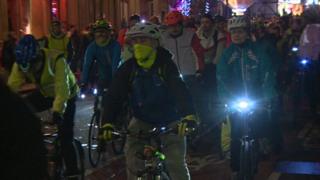 More than 100 people have taken part in a memorial bike ride to remember a cyclist who was killed when a car crashed into shops in Leeds.
John Harkins died at the scene on Kirkstall Road on 14 November after a VW Golf hit two buildings.
Mr Harkins, 33, originally from Cumbria and living in Kirkstall, was described by his family as a "gentle giant".
Cyclists left Millennium Square on Thursday evening and made the two-mile journey to the scene of the crash.
A "ghost bike" memorial on Kirkstall Road has been covered with flowers and tribute messages to Mr Harkins, who was known as Tats and coached a cheerleading squad.
Two men from Leeds, aged 23 and 36, were arrested on suspicion of causing death by dangerous driving following the crash and are on police bail.
David Matyjas, who organised the event, described it as "a totally unnecessary death".
He said: "We as cyclists are extremely fragile, we decided to bring to people's attention that this is what happens within a blink of an eye - in a split-second we had a tragedy that affected so many people.
"We gather here today to show everyone that he will be missed."