Pinderfields patients called back for blood virus tests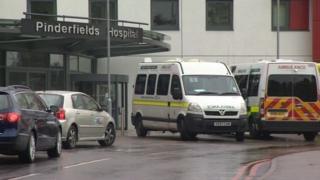 Twenty-five hospital patients have been called back for blood-borne virus tests after concerns were raised about the cleanliness of equipment.
The patients all underwent nasal endoscopy procedures at Pinderfields Hospital in Wakefield, West Yorkshire.
The Mid-Yorkshire Hospitals NHS Trust said 18 of the 25 had been tested so far and all results had been negative.
According to the Health and Safety Executive, the most common blood-borne viruses are HIV and hepatitis B.
The Mid-Yorkshire trust confirmed the patients involved were first contacted in October and are being tested for HIV and hepatitis B and C.
Read more on this story at BBC Local Live in West Yorkshire
"Following advice from national experts at Public Health England we were advised that some of our patients who have had a nasal endoscopy procedure will need a follow-up blood test to rule out the very low risk of acquiring a blood-borne virus," said David Melia, from the trust.
"Therefore we have written to 25 patients advising them of the need to have a blood test.
"We would like to emphasise to our patients that the risk is extremely low and this is a precautionary step only."
Blood-borne viruses are carried by some people in their blood and can be spread from one person to another.