Bramley baby death: Prayers for baby found in carrier bag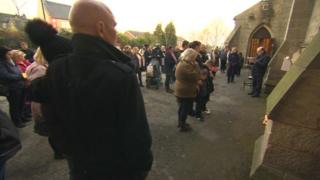 Prayers have been said for a baby boy who died after being left outside a vicarage in a supermarket carrier bag.
The boy was found outside St Peter's Church in Hough Lane, Bramley, near Leeds, on Wednesday morning.
The Reverend Paul Crabb who found him led prayers for the boy and his mother at a brief outdoor ceremony.
West Yorkshire Police said they are still trying to identify the baby and find his mother.
Mr Crabb said: "We're here to be together, to share our sadness and to express our love for a little boy we never knew yet whose death has changed our lives."
He went on to pray the boy's mother would "find the help that she needs".
The white baby boy was found in a Tesco bag for life, said the force.
It is believed the infant had only recently been born before he was left by the doorstep.
He was taken to hospital by ambulance but was later pronounced dead.
The boy was wrapped in a towel and shirt.