Kirklees children's services 'inadequate'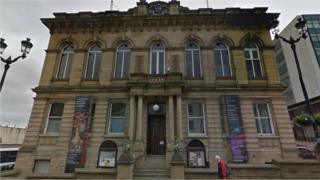 Some at-risk children are not being protected by Kirklees Council and its children's services have been rated "inadequate" by a government watchdog.
The Ofsted report found "serious and widespread failures" that left "some children not being protected".
The council covers Huddersfield, Dewsbury, Batley and Holmfirth in West Yorkshire.
The council said: "We have been clear for several months that serious issues needed to be addressed."
'Hugely committed'
Sarah Callaghan, the council's director of children's services, said it was "taking urgent steps to improve support".
"We are very confident that the benefits of these changes will soon be evident", she said.
The council said its staff were "hugely committed" and poor standards were not acceptable.
The report had 27 recommendations and told the council to "take urgent action to ensure that all children currently being provided with a service are safeguarded".
An external review of the services had found serious concerns in 2015, according to Ofsted.
'Not fit for purpose'
Ms Callaghan was employed by the council in April, an additional £4m funding was found and the council made "considerable efforts" to improve, the report said.
However, the changes were not making "a sufficient difference", it found.
The electronic recording system used by social workers was found by inspectors to be "not fit for purpose".
The authority's five children's homes had four judged to be good or outstanding at the 2011 Ofsted inspection, it also judged children's services to be good.
More than 98,000 children and young people under the age of 18 years live in Kirklees and about 2,500 children were in need of children's services.
More than 400 needed a child protection plan and about 650 children were being looked after by the authority, in March.
The inspection was carried out during September/October.