Halifax Piece Hall revamp faces further delays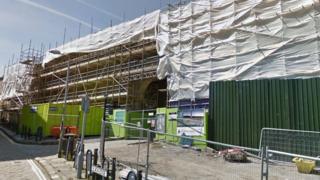 The restoration of a Grade I-listed cloth trading hall has been delayed for a second time meaning it will reopen more than a year later than planned.
Unforeseen problems mean Halifax Piece Hall, built in 1779, will now remain closed until "at least summer 2017", Calderdale Council said.
It will have new shops, a library and a heritage centre.
George Drake of Calderdale Industrial Museum said people would be "very proud" when it finally opened.
More on this and other West Yorkshire stories
He said: "We have to look at the big picture, we have to look very positively.
"The standard of work is absolutely wonderful, it's been planned very, very carefully. I'm impressed with what I've seen so far."
The Piece Hall closed in January 2014 and will have new entrance, workspaces and conference venue alongside cafes and restaurants when it reopens.
But the restoration hit various problems including the removal of hundreds of bodies from an ancient graveyard discovered under the access road.
Council leader Tim Swift said: "Typical of a Grade I-listed Georgian building, there are no detailed historic drawings for the design and construction teams to use.
"Peculiarities have been revealed only when teams have been working on the ground, meaning plans have had to be adapted and flexible."
He said work had most recently been held up by the discovery of asbestos and a dry stone wall constructed as foundations, which needed to be strengthened.
Mr Swift said: "We expect the completion of the initial phase of building works to be February, followed by about 16 to 18 weeks for handover to the trust and fit-out of the new heritage centre, cafes and shops."
In June, Calderdale Council said a contingency was built into the project in case of rising costs.
---
Halifax Piece Hall
Built 1779 as a trading centre for handloom weavers selling "pieces" of locally-made cloth
Since used for political rallies, pop concerts, and film locations (including Brassed Off)
Fell into disrepair and closed for restoration in January 2014
Calderdale Council contributed £10m towards the £19m restoration, with £7m coming from the Heritage Lottery Fund. Additional funding was raised through a fundraising campaign
The council has said its restoration is one of the most complicated and large-scale undertakings of its type in the country
---