Leeds Energy Recovery Plant incinerator officially opens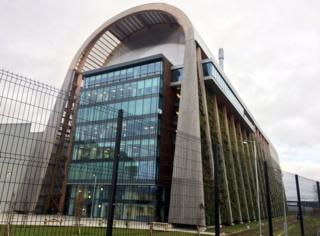 A £140m incinerator hoping to create enough power for 20,000 homes has been officially opened by the Duke of Kent.
Leeds Energy Recovery Plant at Cross Green will burn up to 150,000 tonnes of landfill waste a year.
At 42m (138ft) it is said to be one of the tallest timber buildings in Europe.
Leeds City Council (LCC) said the £555m cost of building and running it over 25 years is about £200m less than it would have had to pay in landfill taxes.
Work on the plant at the Cross Green Industrial Estate started in 2013 and it became fully operational in April.
During the planning process, 300 formal objections were received to the project.
The council describes the incinerator, which employs more than 70 people, as a long-term solution to waste going to landfill.
Lucinda Yeadon, LCC executive member for environment and sustainability, said: "This excellent facility is at the heart of our commitment to sustainability and making the best use of our resources.
"It allows us to divert black bin waste away from landfill and into environmentally-friendly recycling or energy creation."
The facility is part of a 25-year PFI contract between the council and environmental solutions company Veolia.