Tracy Brabin pays tribute to Jo Cox in maiden speech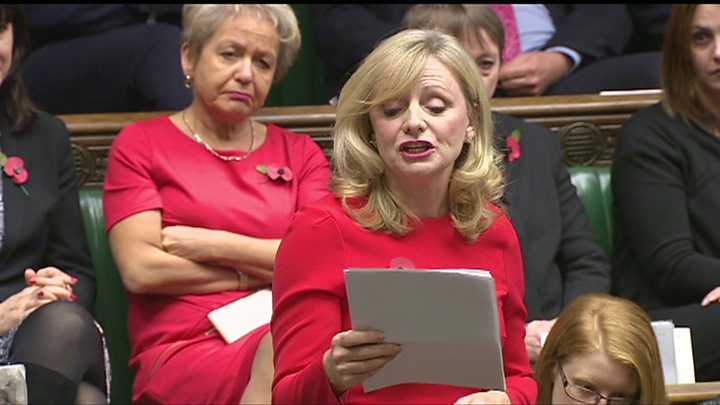 Tracy Brabin was applauded by MPs after using her maiden speech to pay tribute to her friend and "inspiration" Jo Cox.
Labour's newest MP said the killing of Mrs Cox will "stay with everyone" in her West Yorkshire constituency for the rest of their lives.
Speaking in the Commons, she said: "Batley and Spen will not be defined by the one person who took from us, but by the many who give."
The former Coronation Street star was elected in October to replace Mrs Cox.
The 41-year-old was shot and stabbed in Birstall on 16 June. A man has been charged in connection with her death.
'Darkest circumstances'
Surrounded by party colleagues, Ms Brabin opened by paying tribute to the political parties who opted not to stand in the by-election out of respect to Mrs Cox.
She said: "I wasn't elected in a conventional way and it was in the darkest of circumstances through the loss of my friend and inspiration, Jo Cox, that I came to be here.
"What happened wasn't only an attack on a woman, family and a community, it was an assault on the principles and basis of our democracy."
"I will stand tall against those whose only mission is to divide our community."
Speaking about Mrs Cox, she said: "We will never forget the difference Jo has made and through her legacy continues to make.
"She was and is unforgettable."
Her speech came during a Labour-led debate on police officer safety, with the Batley and Spen MP praising West Yorkshire Police for its reaction to the attack on Mrs Cox.