West Yorkshire Police chief constable gets full-time role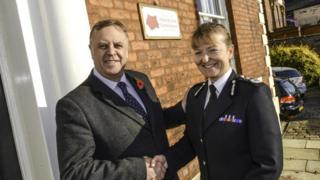 West Yorkshire Police has appointed its stand-in chief constable to the role on a full-time basis.
Dee Collins will take up the permanent position after taking temporary charge of the force since the retirement of Mark Gilmore in August.
Ms Collins, who was formerly deputy chief constable of West Yorkshire, said she was "delighted and proud".
The appointment is subject to a Police and Crime Panel confirmation hearing on 11 November.
More on this and other West Yorkshire stories
West Yorkshire Police and Crime Commissioner Mark Burns-Williamson said: "Having worked closely with Dee over the last couple of years I know how passionate she is about this job, about the wellbeing of police officers and staff and about keeping our communities safe and feeling safe."