Ex-soldier Simon Buckden 'defrauded thousands after lying over cancer'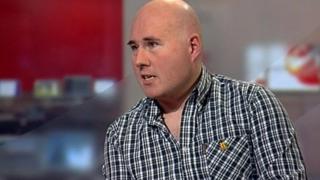 A former soldier and fundraiser received thousands of pounds worth of money and services by pretending he had cancer, a court has heard.
Simon Buckden, 44, from Leeds, ran several marathons and raised money for charities in 2012.
Leeds Crown Court was told he claimed to have cancer in an attempt to get sympathy and money. But medical records revealed he was never diagnosed with the illness.
Mr Buckden denies six counts of fraud.
Prosecutor Craig Hassall said service records of the ex-serviceman, who claimed to have served in war-torn countries, showed he was a military clerk until he was discharged in 2001 due to mental health problems.
'Held dying child'
He carried out one overseas deployment to Bosnia during his time in the armed forces but never experienced frontline active service, the court heard.
Mr Buckden told a number of people he served in Bosnia, Northern Ireland, Rwanda and both Gulf Wars, describing his experiences and claiming he suffered with post traumatic stress disorder (PTSD) as a result, the jury heard.
He told people he held a dying child in his arms and told his ex-girlfriend he shot a friend in the kneecap while working undercover to infiltrate the IRA, the court was told.
He took part in the Olympic torch relay in the run up to the 2012 London Olympic Games and began a fundraising challenge to run 100 marathons in 100 weeks.
That same year, he told his former partner he had been diagnosed with terminal rectal cancer, the court heard.
After telling a number of people about the diagnosis and his marathon challenge, he received thousands of pounds worth of money and services from businesses for courses, therapy sessions, a holiday, a publicity film and to set-up a PTSD enterprise, the jury was told.
The trial continues.