King's Cross architect in Leeds Station plans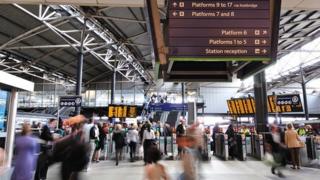 Leeds Station is to be redesigned by the architect behind the redevelopment of London's King's Cross station.
The railway station in Leeds, used by more than 100,000 passengers a day, is one of the busiest outside London.
The Atkins consortium includes Hiro Aso who was the lead architect on the award-winning revamp of King's Cross, said Leeds City Council.
Long-term plans include incorporating high-speed rail services HS2 and HS3 in a single hub at the station.
A concourse is proposed linking the platforms for the planned high-speed rail services to the existing station.
Phase Two of HS2, including trains to Leeds, is due to be finished in about 2033.
An updated station masterplan is due to be completed by next summer although the cost of any work is not yet known.
Councillor Keith Wakefield, chair of the transport committee for the West Yorkshire Combined Authority, said: "You need to make a more ambitious statement, go for the quality like King's Cross has got because that's what Leeds and Yorkshire deserve."
The area would be "unrecognisable" in 20 years time, he added.