Asad Khan death: Community meets in Bradford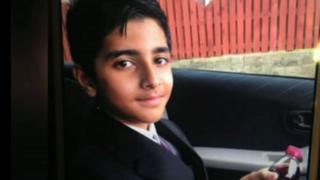 More than 200 people gathered in Bradford to discuss bullying after the death of an 11-year-old boy.
Asad Khan died last week and it is thought he took his own life. His family believe he had been bullied.
Members of the local community gathered at Girlington Community Centre on Thursday night to offer support to those affected by Asad's death.
Prayers were said and Asad's aunt Rehana Bibi spoke, thanking the community for its support.
People living in the area want to make sure no child feels lonely and isolated.
More on this story and others from BBC Local Live: Leeds and West Yorkshire
Speaking on Thursday, Imam Alyas Karmani, said: "I hope and I pray for Asad's benefit and for his family's benefit as well, that good comes out of a tragedy."
Hundreds of people attended the funeral last week.
Asad was found unresponsive at his home on Tile Street, off Whetley Lane, on 28 September by his mother. He was taken to hospital but died a short time later.
His mother, Farheen Khan, was not at the meeting but posted a statement on Facebook.
It it she said: "That is all a mother is asking for, justice for her child."
West Yorkshire Police is investigating the events that led up to Asad's death.
Bradford Council leader Susan Hinchcliffe said: "We are continuing to work with the police and the school who are looking into the circumstances around this dreadful tragedy.
"It is too early to come to any conclusions as to why Asad took his own life, we must allow for the investigations to complete their work. We are also continuing to offer our support to the family and to the school who are supporting the children through the grieving process."