'Love locks' cut from Leeds bridge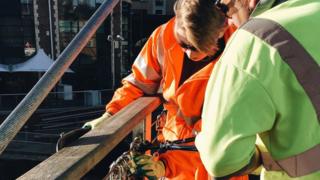 Work to remove "love locks" from a bridge in Leeds amid concerns they could cause structural damage should be completed by Friday.
The padlocks, inscribed with the names of people, usually couples, have been fastened to Centenary Bridge.
Leeds City Council said it was removing them as the padlocks could cause corrosion to the bridge's metalwork.
The removed locks will be kept for three months to enable people to reclaim them before they are recycled.
In 2014, part of the Pont Des Arts bridge in Paris collapsed under the weight of thousands of padlocks attached to a parapet.
More on this and other West Yorkshire stories.
The council said it did not have an estimate of how many locks it would have to remove.
The locks first appeared on the bridge in 2013 but the council said there had been a significant increase in the number of them attached to the bridge this year.