Leeds homeless protest camp moves to city park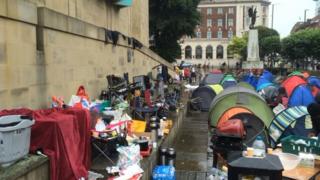 A group of homeless protestors have set up camp in a Leeds park after being ordered to remove their tents from outside one of the city's galleries.
The group have moved from in front of Leeds Art Gallery to Park Square after Leeds City Council obtained a court order to clear the camp.
Those involved say they are protesting against the council's treatment of homeless people.
The council say "helping the homeless remains an absolute priority".
Live updates and more from across West Yorkshire
Protestors struck the camp - dubbed "Tent City" - on Friday, pitching about 60 tents outside the gallery, before moving to Park Square on Tuesday after the court order was issued.
Hayden Lee, from Leeds Homeless Partnership, said: "The needs of these guys are not being met properly.
"We just want to address to the council that these guys need proper assessments.
"There are guys going back to jail because they are getting the support they need in jail but not on the outside."
Debra Coupar, council member for communities, said the council was "open to sensible discussions" but protestors have "chosen not to engage with the council or charities who work on this issue".
She defended the authority's work to tackle homelessness, saying: "We continue to work with a range of partners, including the police and charities to tackle homelessness and rough sleeping in Leeds.
"We also work with partners to try and ensure that the health and well-being of anyone in housing need is addressed."