Samia Shahid 'honour killing': First husband and father appear in court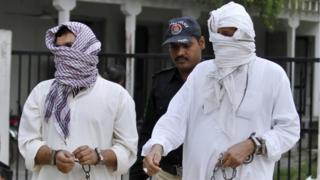 The first husband and father of alleged "honour killing" victim Samia Shahid have appeared in court in Pakistan in connection with her death.
Chaudhry Muhammad Shakeel is accused of murdering Ms Shahid, 28, from Bradford, and Chaudhry Muhammad Shahid is being held as an accessory to murder.
At the hearing the men were presented with the police evidence against them.
They will have the chance to challenge the case on 7 October when the court will decide whether to bring charges.
Both men were remanded back in to custody ahead of their next appearance.
Ms Shahid died in July in northern Punjab. It is thought she had travelled to Pakistan to visit family in the village of Pandori after being told her father was ill.
Her relatives initially said she had suffered a heart attack but a post-mortem examination confirmed she died as a result of being strangled.
Her second husband, Syed Mukhtar Kazim, believes she was the victim of a so-called "honour killing" as her family did not approve of their marriage.