'Totes awkward' police wedding photo appeal dropped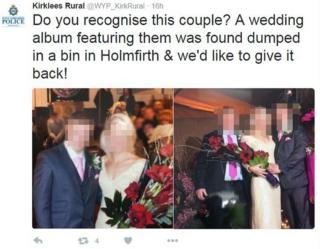 A police social media plea to reunite the owners of a wedding photo album found in a bin backfired when they discovered they didn't want it back.
West Yorkshire Police's Kirklees Rural branch appealed to find the pair after it was found in rubbish in Holmfirth.
The finder handed the album to police as he was concerned it had been stolen.
After people replied suggesting there may have been a reason it had been dumped in a bin, police said it "looks like it will be staying with us".
'Totes awkward'
Writing on Facebook, the branch posted: "We like to try and reunite people with lost property....but this has turned out to be totes awkward."
A West Yorkshire Police spokesperson said: "This message was put out with the best intentions - we apologise for any offence caused."