Two jailed over Bradford road race taxi crash deaths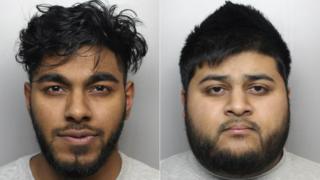 Two men who caused the deaths of a taxi driver and his passenger while racing at speeds of up to 85mph have each been jailed for seven-and-a-half years.
Mirza Malick, 64, and Paul Hayward, 55, from Bradford, were killed in a crash in the city in January.
Ismail Miah, 23, and Muhammed Sikder, 27, who Bradford Crown Court heard had been driving "side by side", admitted causing death by dangerous driving.
The judge described the case as "approaching the worst" of its kind.
Judge Jonathan Durham Hall QC said he expected the length of the sentences to come under scrutiny but that he had to give credit to the two men for their guilty pleas.
Is the law tough enough on killer drivers?
He said the seven-and-a-half year sentences "will no doubt be questioned", adding: "No doubt my superiors, as we speak, are examining this offence and the sentencing policy."
Miah, who was driving a Range Rover, and Sikder, who was behind the wheel of a BMW, were caught travelling at speeds of up 85mph and 75mph respectively along the 40mph Shipley Airedale Road, the court heard.
Mr Malick's Proton taxi was sent rolling down the road by the force of the impact from Sikder's BMW.
For live updates and more from across West Yorkshire
Miah and Sikder's vehicles also collided.
'Death inevitable'
Judge Durham Hall said the two men had been "side by side, challenging each other" seconds before the "catastrophic" crash.
Jailing Miah and Sikder, who are both from Bradford, he said: "You gave no thought save to the challenge by one, whoever it was, taken up by the other.
"It was inevitable that death would be the result."
In victim impact statements, the court heard that Mr Malick's widow had "lost half her soul" due to her husband's death.
Mr Haywood, who had schizophrenia and lived at a nursing home, was travelling to church at the time of the crash.
Sgt Carl Quinn, of West Yorkshire Police, said of Miah and Sikder: "Their driving on that fateful day was foolish, reckless and highly dangerous and sadly resulted in the untimely deaths of two men."