West Indian Carnival takes place in Leeds for 49th year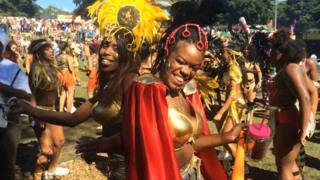 Thousands of people have turned out on the streets of Leeds for the 49th West Indian Carnival.
The celebration of food, music and culture - among the oldest events of its kind in Europe - took over Potternewton Park for the bank holiday weekend.
The highlight was Monday's carnival parade on the streets of Chapeltown and Harehills.
Organisers estimated 120,000 had attended this year's celebrations.
The parade left Potternewton Park at 14:00 BST, turned left down Harehills Avenue before heading towards the city centre. It then looped back on itself and returned to the park.
An early-morning 'pyjama party' kicked-off the day's festivities at 06:30.
Arthur France, who helped to start the the carnival in 1967, said he was feeling "overwhelmingly great".
"We have some great costumes, great weather and Leeds is bustling - we upstage London and the rest of Europe," he said.