Huddersfield Station cat Felix finishes charity 'run'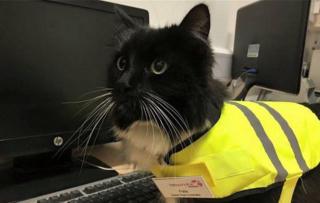 A railway station cat has completed a 5km fun "run", raising more than £5,200 for a children's charity.
Felix, who shot to fame as Huddersfield Station's pest controller, began the challenge in support of Fairy Bricks on 12 August.
A GPS tracker was attached to her collar to track her distance.
Andy McClements, of TransPennine Express (TPE), said: "The team here could not be prouder of our resident senior pest controller."
He added: said: "Ever since the beginning of the year when Felix was propelled to superstardom, she's gathered quite a following on social media who track her daily exploits and adventures through Facebook."
TPE said it was delighted the cat's "loyal and supportive fans" had raised the money.
Felix fans wished the cat good luck on the challenge on a Facebook page set up in her name.
The Fairy Bricks charity supplies Lego kits to children in hospital.