Huddersfield waste site 'causing nausea and headaches'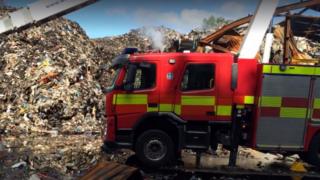 A week-long fire at a waste disposal site is causing nausea and headaches, nearby residents have said.
The fire started at Hunters Waste Management in Lockwood, Huddersfield, last Thursday, with sections of the waste pile continuing to smoulder.
A nearby garage said workers had been physically sick and it was making their eyes sting.
Residents who live near the Queens Mill Road site have been advised to keep their windows and doors shut.
West Yorkshire Fire and Rescue Service said it was visiting the site daily, but some areas of the fire were not accessible to firefighting equipment.
Sam Watt, who runs a nearby pub, said: "It's getting me down now.
"The smells change from a fatty smell, to a plastic smell, it's making me feel very sick, headaches, dizziness, but you've got to carry on, I've got a business to run."
The waste that is burning at the privately-owned tip is non-hazardous, mixed household waste, the Environment Agency said.
Ian Roper, who has a garage near the site, said: "We're all a bit annoyed in this area.
"On Friday we had low cloud and drizzle, so you couldn't escape the fumes. The apprentice was sick, I had headaches and my eyes were prickling away - it's a bad environment to be living in."
Kirklees Council said the current permit holder for the site was "being pursued over their responsibilities regarding the clearance of the waste".
"Investigations are also continuing into the previous operators over past operations at the site," a spokesperson added.