Huddersfield Station cat Felix starts 5k 'run' for charity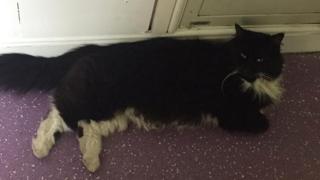 A railway station cat is taking part in a 5k fun "run" to raise money for a children's charity.
Felix, who shot to fame when she was named Huddersfield Station's Senior Pest Controller, has taken on the challenge in support of Fairy Bricks.
Her "run" started earlier although railway staff said she had been taking breaks by "lying down in the corridor".
She has already raised more than £2,500 for the charity which supplies Lego kits to children in hospital.
Felix's progress is being monitored via a GPS tracker in her collar, which allows the distance she has covered to be measured.
Andrew McClements, from TransPennine Express, said: "The challenge has got under way, she's doing well but I'd be surprised if she covers 5k by Christmas because she's being lying down in the corridor."
Dozens of people have wished Felix good luck in her challenge on a Facebook page set up in her name.
'Pawlympic challenge'
Shirley Mitchell wrote: "Good luck Floofy for the 5K - make sure your personal trainer is nearby for paw massages and energy boosting treats. I don't care if you're not able to manage it, just look at how much you have raised simply by being so pawsome, that's a big enough achievement for one fabulous kitty."
Emilie Froge sent well wishes from her and her cat Jack Sparrow from Rio de Janeiro.
Barbara Blackie posted: "Best of luck for your Pawlympic challenge Fifi - we're all rooting for you."
A Lego model of Felix has been built by the charity to mark the challenge.