Proposed changes to HS2 rail's West Yorkshire route put to public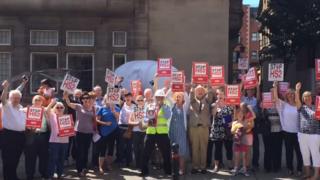 The developers of the HS2 high speed rail link are holding a drop-in session in a West Yorkshire village over a proposed change of route.
The company is planning to change the line in South Yorkshire to run next to the M18 motorway and to include a stop in Sheffield city centre.
As a result the line would enter West Yorkshire further east, closer to Wakefield.
A meeting is being held by HS2 Ltd in Hemsworth for newly affected residents.
In his report outlining the change, David Higgins, chairman, of HS2 Ltd, said the new route would cut journey times as well as reducing costs by £1bn.
"I also recognise that this proposal will create fresh uncertainty for some residents along the M18/Eastern route," he said.
"I apologise for that and will do all I can to ensure that their questions and concerns are addressed as quickly as possible."
'Ruined forever'
The proposed changes have attracted complaints from people living in the affected area, with campaigners holding a protest outside of Wakefield town hall.
Jonathan Pile said people in Crofton were "furious at having the rail route dumped on them at the last minute".
"The quality of life for about 7,000 people in our village is going to be ruined forever," he said.
"We are going to stop HS2 and if I have to lie down in front of a digger to do that I'm going to do that."
At a similar drop-in session in South Yorkshire on Friday, protesters claimed they were physically stopped from entering the meeting by security guards.
A final decision on the route will be made by the transport secretary in the autumn.